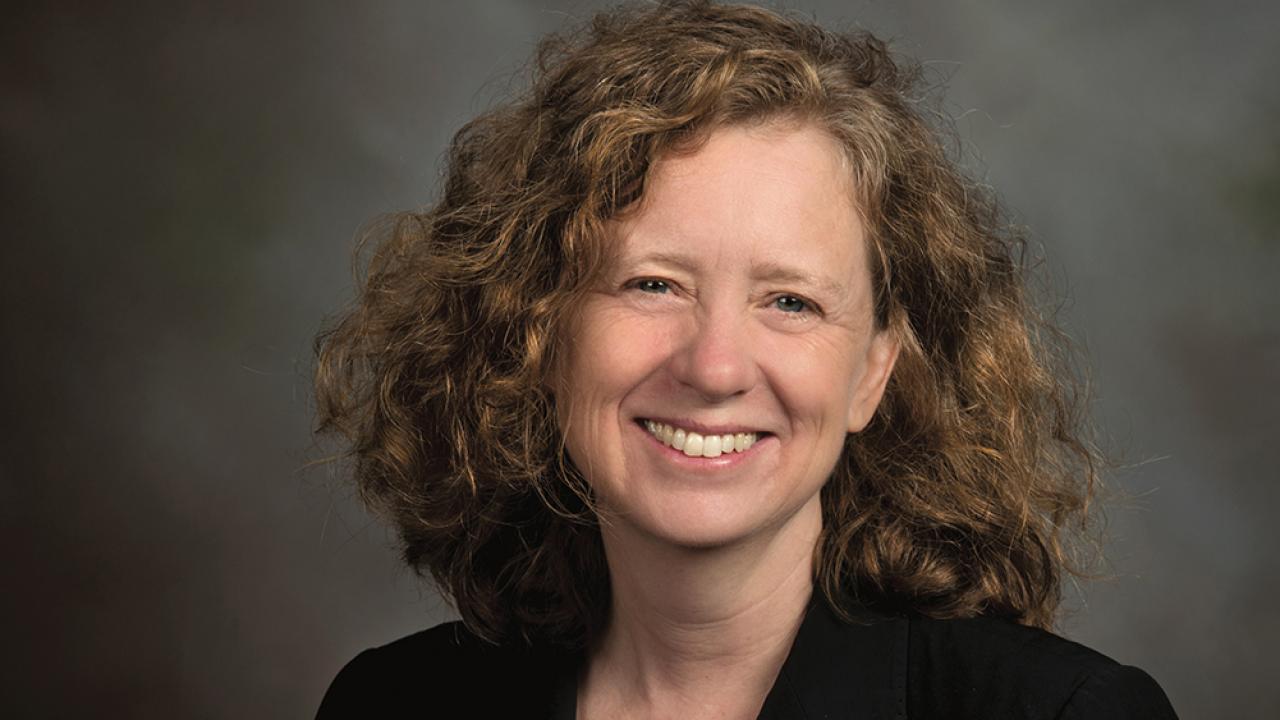 Elizabeth Spiller, who as dean led the successful reorganization and financial restructuring of the UC Davis College of Letters and Science, has been tapped as the next executive vice chancellor for academic affairs at the University of Nebraska–Lincoln.
Nebraska Chancellor Ronnie Green announced Spiller's appointment on Dec. 11. Her new role will begin in March 2020, pending approval by the university's board of regents.
UC Davis Provost and Executive Vice Chancellor Ralph J. Hexter, in a message notifying college faculty and staff of Spiller's departure, said: "I am deeply grateful to Elizabeth for her strong leadership of the College of Letters and Science during a critical time in the college's evolution."
Hexter added: "She has vastly improved the college's financial standing, its organizational structures, and its processes. She has not only shared the vision that Letters and Science is the intellectual core of the university: she has communicated it persuasively and eloquently to audiences both internal and external. We offer her our congratulations as she takes up her new post as the chief academic officer at UNL."
Reorganized UC Davis' largest college
Spiller's appointment at UC Davis in 2017 marked the College of Letters and Science's return to a governance structure headed by a single dean, as recommended by the provost's work group on the reorganization of UC Davis' largest college. The College of Letters and Science had been operating with three deans. During her tenure as the first dean of the college in almost 25 years, Spiller was responsible for integrating the largest college on campus into a single administrative unit, while also eliminating an estimated $10 million deficit within the college. She implemented new programs to support faculty excellence, promoted the development of interdisciplinary curriculum in areas like data science, and initiated programs in student recruitment and learning beyond the classroom.
"It has been an honor to work for the past three years with faculty and staff from across the college to support and realize the potential for transformational, integrated liberal arts and sciences education and research," Spiller said. "Davis is a leader in two of the key land-grant commitments — educational access and research that informs our communities and world. L&S is absolutely at the heart of both of those missions, and its contributions to the comprehensive excellence that defines UC Davis cannot be overstated."
Literary scholar and higher education leader
Spiller, a professor of English, came to UC Davis from Virginia Tech, where she served as dean of the College of Liberal Arts and Human Sciences. Under her leadership, an expansion of academic offerings led to a 60% increase in undergraduate applications and a more than 40% increase in incoming first-year students. She led initiatives related to faculty excellence, curricular innovation, and diversity and inclusion. She also served as an associate dean in the College of Arts and Sciences at Florida State University, a top 20 public research university.
She holds a doctorate and Master of Arts in English and American language and literature from Harvard University, and a Bachelor of Arts in English literature from Amherst College. A scholar of Renaissance literature, she specializes in early modern literature and culture with emphasis on the history of reading, and on literature and science. The author of two books, both from Cambridge University Press, Spiller has twice been awarded fellowships from the National Endowment for the Humanities and earned a Fulbright Fellowship.
Interim leadership 
Hexter said he and Chancellor Gary S. May had determined the next provost and executive vice chancellor — who is expected to join UC Davis in the 2020-21 academic year — will direct the recruitment for an incoming dean in the College of Letters and Science. Hexter said he and the chancellor will appoint an interim dean and that appointment is expected to be announced by early March 2020.
Category
Tags