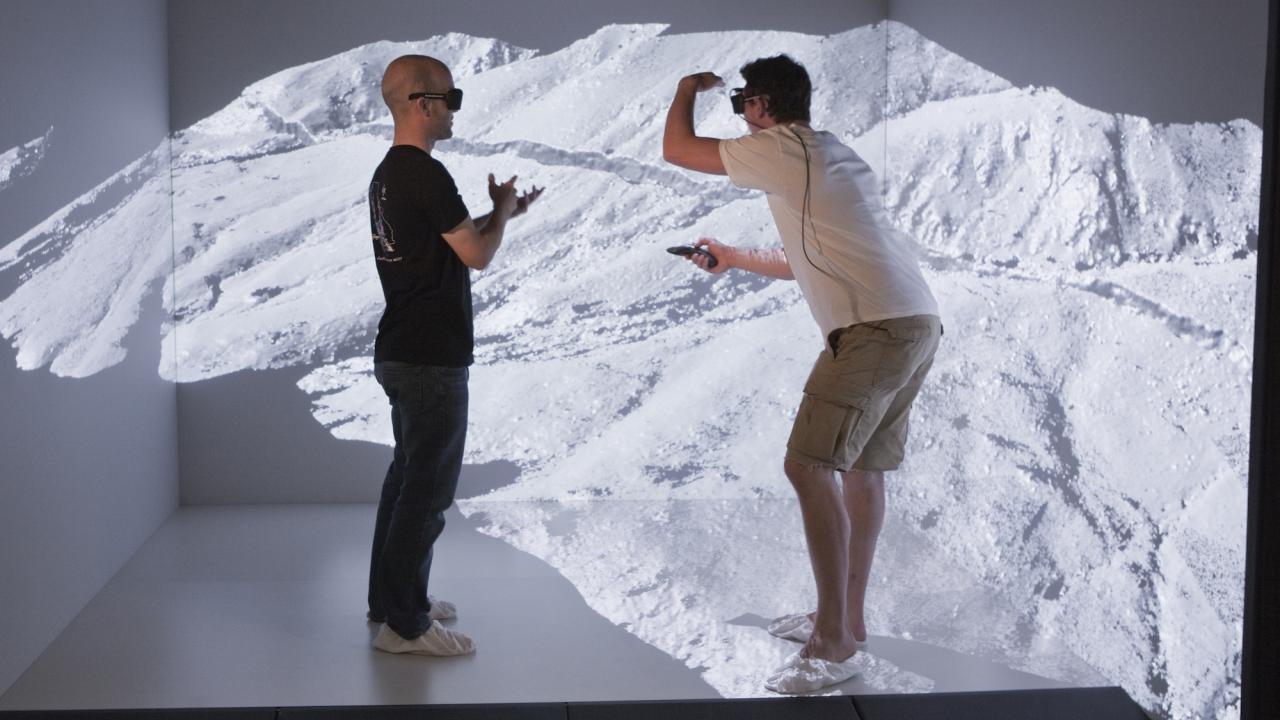 Advances in technology make it possible to collect enormous amounts of data about our planet. So how do earth scientists make sense of their trillions of bits?
One solution is a unique room at UC Davis built for interacting with 3-D data. Since it launched 10 years ago, the KeckCAVES, an immersive 3-D environment located in the Earth and Physical Sciences building, has revealed surprising patterns in data from Earth and other planets.
The facility has earned an international reputation for its 3-D visualizations. For example, in 2013, a team of archaeologists and filmmakers secretly visited UC Davis to study a proprietary airborne laser scan (lidar) of a dense Honduran rain forest. The KeckCAVES provided a closer look at evidence of ruins hidden under the foliage. In 2015, those ruins were revealed to be a legendary lost city, the "City of the Monkey God."
"The lidar allowed us to follow a meandering river through a narrow gap into a hidden valley and find possible helicopter landing sites, all without needing a machete or being eaten alive by insects," said KeckCAVES lead developer Oliver Kreylos (Ph.D., computer science, '03).  
The KeckCAVES opened in 2005 with a gift from the W.M. Keck Foundation and matching support from UC Davis. The room features three walls and a floor covered by stereoscopic display screens. Open-source software created at UC Davis handles head-tracking and controls.
In recent years, UC Davis researchers have flown over an earthquake fault, walked on the surface of Mars, and examined ancient, fossilized microbes in the KeckCAVES. Instructors also taught students how to think in 3-D by illustrating how rock layers intersect with hills and valleys. 
"With the 3-D projection, your data come alive in front of you," said KeckCAVES director Louise Kellogg, professor of geophysics. 
— Becky Oskin, content strategist in the UC Davis College of Letters and Science
Category
Tags