The California Studio Wraps Up Inaugural Year With Groundbreaking Artists
The UC Davis Department of Art and Art History will host Ann Hamilton, Michael Mercil and Beatriz Cortez as the spring quarter artists in residence in The California Studio: Manetti Shrem Artist Residencies. Launched in fall 2021, The California Studio brings artists to campus in residencies focused on teaching and studio art education.
This is the inaugural year of The California Studio during which six artists have taken part. All artists teach at the graduate and undergraduate levels and give a public lecture.
Ann Hamilton and Michael Mercil
Hamilton is internationally recognized for her large-scale multimedia installations, public projects and performance collaborations. Michael Mercil is a visual artist whose work interrogates agrarian experience through sculpture, drawing, painting, landscape architecture, film, performance and farming. In 2005 they began The Living Culture Initiative, a project that explores the intersection of art and the agricultural sciences at The Ohio State University. Hamilton and Mercil have collaborated on Teardrop Park in New York, the Allegheny Riverfront Park in Pittsburg,  and Halo, an installation using directed sunlight in New York. Both are professors emeriti of art at The Ohio State University.
Hamilton and Mercil will also give a lecture, free and open to the public, on April 28 at 4:30 p.m. at the Ann E. Pitzer Center.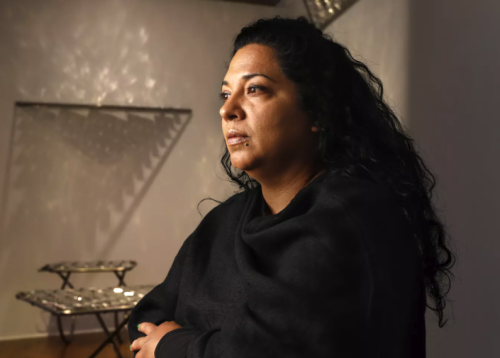 Beatriz Cortez
Cortez, a visual artist and cultural and literary critic. Her artwork taps into the history and cultural knowledge of her homeland, El Salvador. Through her work she explores memory and loss in the aftermath of war and migration, and imagined possible futures.
Cortez won the Artadia Los Angeles Award in 2020 and the inaugural Frieze Arto LIFEWTR Sculpture Prize in 2019. Cortez's solo exhibition Cosmic Portals is on view at Pitzer College Art Galleries until April 12. Her work is also exhibited in FUTURES at the Smithsonian Arts + Industry Building in Washington, D.C., until July 6. Cortez is a professor in the Department of Central American and Transborder Studies at California State University, Northridge.
She will give a free public talk on April 14 at 4:30 p.m. at the Jan Shrem and Maria Manetti Shrem Museum of Art.
The visiting artist program is supported by a $750,000 gift from Jan Shrem and Maria Manetti Shrem.
— Jeffrey Day, content strategist in the UC Davis College of Letters and Science
Secondary Categories
Tags