Biotech Tattoo Project Takes SXSW Award
Design Professor and Team Win 'SciFi No Longer' Award
Katia Vega, assistant professor in the UC Davis College of Letters and Science's Department of Design, is part a team that has won the SXSW Interactive Innovation Award in SciFi No Longer. The award for The Dermal Abyss: When Tattoos meet Biotechnology was announced Tuesday at the SXSW Conference in Austin, Texas.
The award honors "the coolest scientific achievement or discovery that before 2017 was only possible in science fiction," according to SXSW.
Dermal Abyss presents a novel approach to biointerfaces in which the body surface is rendered an interactive display. Traditional tattoo inks are replaced with biosensors whose colors change in response to variations in bodily fluids which could indicate illness or changes in glucose levels in people with diabetes. It blends advances in biotechnology with traditional tattoo artistry. Vega collaborated with team members from the MIT Media Lab and Harvard Medical School on the project.
"One of the defining features of science fiction is that it empowers you to imagine the world differently," said College of Letters and Science Dean Elizabeth Spiller. "We are so excited to see Katia Vega's work on biosensor tattoos win this year's SXSW Award for SciFi No Longer. She is an example of how our faculty across the College of Letters and Science pursue innovations that allow us not just to imagine, but to live the world differently."
Developer of 'beauty technology'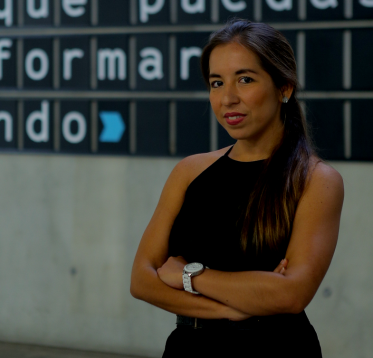 Vega joined UC Davis this academic year. Her research is in beauty and fashion technology and wearable computers. Her inventions include fingernails, eyelashes and makeup that transform the body surface into an interactive platform.
"Katia invented the field of 'beauty technology' by turning makeup, hairware and now tattoos into interactive platforms on and in the body," said Christina Cogdell, chair of the Department of Design. "Using tattoos as biosensors carries so much potential across fields that I'm not surprised the project won. We are so fortunate to have her here and are all so proud of her and her collaborative team."
The project is a collaboration among Vega, Xin Liu, Viirj Kan and Nick Barry, who were all MIT researchers during development, and Harvard Medical School researchers Ali Yetisen and Nan Jiang. 
"My goal with the award is to expose this possibility to biotechnologists in order to improve biosensor compatibility with tattoos and embrace the idea of human device symbiosis," Vega said.
Other finalists for the award were Google Earth VR and Jacquard™, both by Google; HoloPlayer One by Looking Glass of New York; and Simulate the invisible: a real-time muography simulator developed for ScanPyramids by Benoit Marini of France.
Last year Vega was named one of the 20 Most Influential Latinos working in technology by CNET en Español.  
-- Jeffrey Day, content strategist in the College of Letters and Science
Primary Category
Tags