Award-Winning Shakespearean Scholar to Give Lunn Lecture
Stephen Greenblatt, a Pulitzer Prize-winning author and Harvard University humanities professor, will give an online lecture Tuesday, May 4, on "Shakespeare's Second Chance."
This year's Eugene Lunn Memorial Lecture, sponsored by the UC Davis Department of History, will begin at 4 p.m. PDT, with a Q&A session to follow.
A template for redemption
Greenblatt will explore Shakespeare's theme of redemption in The Winter's Tale. Shakespeare was 46 in 1610 when he wrote the story about a 46-year-old king who reunites with his wife and daughter.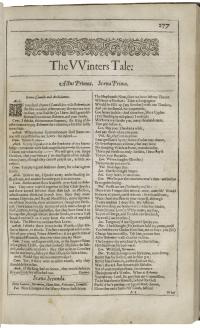 "He borrowed the plot from a potboiler written years earlier by his old nemesis Robert Greene," Greenblatt said. "Even though very few details actually match Shakespeare's life, there is something striking in his engagement with a story in which a father — haunted by a sense of guilt for the death of his only son — is reunited years later with the daughter whom he had cast away as an infant.
"Taking this story over from Greene, Shakespeare radically rewrote its ending to give the wayward husband the opportunity to repair his damaged relationship with his wife."
"'The Winter's Tale' can be viewed as a template for understanding what it takes, according to Shakespeare, to have a second chance in life." — Stephen Greenblatt
'

Will in the World

'

and

'

The Swerve

'

author
Greenblatt serves as the John Cogan University Professor of the Humanities at Harvard. His books and essays have covered a wide range of topics, including a history of original sin in Western culture, The Rise and Fall of Adam and Eve (2017); the works and life of Shakespeare, Will in the World: How Shakespeare Became Shakespeare (2004); and the origins of modernity nestled within the rucksack of a Renaissance book collector, The Swerve: How the World Became Modern (2011), which won a Pulitzer Prize and a National Book Award.
In addition, he is the general editor of The Norton Shakespeare (2015) and the general editor and contributor to The Norton Anthology of English Literature. Greenblatt is one of the founders of New Historicism, a form of literary theory that looks at literature in the context of the period in which it was produced.
About the Lunn Lecture
The annual Lunn Lectureship commemorates Eugene Lunn, an influential scholar in the field of modern European intellectual history who taught at UC Davis from 1970 until his death in 1990. The lecture is made possible by a donation from alumnus Michael Tennefoss (B.A., political science and economics, '80).
This year's lecture is co-sponsored by the Jan Shrem and Maria Manetti Shrem Museum of Art.
The lecture is free and open to the public. Register here for this online event.
— Kathleen Holder, content strategist in the UC Davis College of Letters and Science
Primary Category
Tags