Arts and Humanities Benefit from Grad's Passion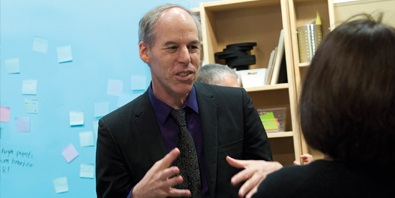 Alan Templeton is the kind of donor who likes to be involved. "The biggest fringe benefit of being a donor is you're engaged in a form of high-quality continuing education," said Alan Templeton over lunch in a simple Thai restaurant near his Oakland home.
"I love talking to the faculty and students; it's really such a privilege."
They also like talking to him; he's down to earth, more likely to be wearing jeans and t-shirt —as he was on this warm February day—than a suit. Since graduating from UC Davis in 1982 with degrees in art history and psychology, he's worked as a professional artist, teacher, labor union administrator and private investor.
Formative time in France
When he was a boy, his family lived in France for six months. That formative time and two later trips ignited a passion for art leading him to study, purchase and donate art, and then to support the arts and humanities at his alma mater.
His main interest is European art of the 17th and 18th centuries, but he places few restrictions on his gifts. The last Templeton colloquium was mostly about Islamic art and architecture.
Giving to the intellectual life of campus
"The colloquium is so good for the intellectual life of the students and faculty," he said. "Scholars meet one another and share ideas. Students and graduates get to network with others in their field."
He has also supported art history for a variety of needs, including funding graduate student travel to explore the subjects of their research.
"Too many students were writing senior and master's theses on artworks and places they had never seen in person because they did not have enough money to travel."
Many programs will benefit
Another fund he started, the Templeton Endowment for the Arts and Letters (TEAL), will benefit a number of areas in the arts, humanities and social sciences.
"It can blossom in different ways," he said, "with annual payouts used in a variety of ways over time."
Influence of UC Davis professors
Several professors played an important role in Templeton's life at UC Davis and beyond. His first adviser was artist Roland Petersen. Art history professor Jeffrey Ruda could "talk to anyone about art" and psychology professor Theodore Parks "made you believe you could do anything."
Templeton grew up in the Bay Area. His parents David and Lieselotte were distinguished chemists, his father serving as dean of the College of Chemistry at UC Berkeley. His father provided a model for giving when he established an endowed chair in chemistry at UC Berkeley aimed at supporting female professors with children.
"He had such a clear idea of what he wanted to do and that is the example I have followed," Templeton said.
— Jeffrey Day, content strategist in the UC Davis College of Letters and Science
Primary Category
Tags