Art History Event Takes On Timely Topic of Race and Museums
During the past year, museums around the nation have been engaged in critical self-examinations of how they have addressed or failed to address issues of race in collections, exhibitions and programming. Many have released public statements acknowledging their shortcomings, the existence of systematic racism in the museum world, and in support of movements such as Black Lives Matter. Some museums have made a commitment to collect and exhibit more work by artists of color, and some have even sold works from their collections to purchase more art by Black artists.
The UC Davis Department of Art and Art History will examine these issues during the annual Templeton Colloquium in Art History. The colloquium, titled "Race, Museums and Art History," is free and takes place online Feb. 19 at 4 p.m. This year marks the 10th anniversary of the colloquium, which is made possible through the support of Alan Templeton (B.A., psychology and art history, '82).
Register for the colloquium here.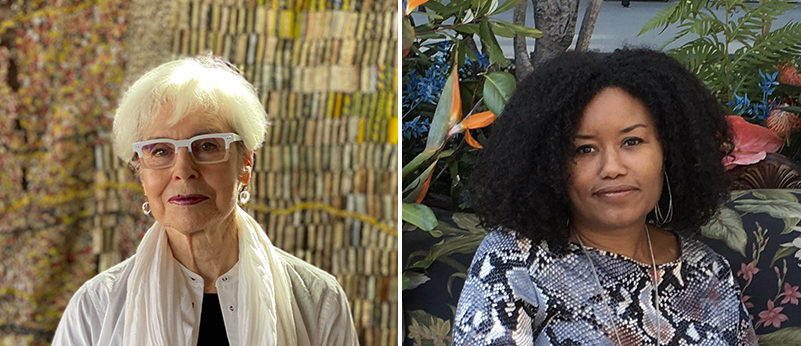 The event will feature Bridget Cooks, an associate professor in the UC Irvine African American studies and art history departments, and Susan Mullin Vogel, a scholar, writer and filmmaker who specializes in African art. Michael Yonan, who holds the recently created Alan Templeton Endowed Chair in the History of European Art at UC Davis, will moderate the event.
"We're having a broad national discussion about race and racism in American culture," Yonan said. "Museums are big players in that they create narratives about culture and history. So many museums are making statements and grappling with the past. This is a great time to have this discussion. Both [Cooks and Vogel] have spent a lot of time thinking about these issues and they are the best people we could have hoped to take part in the colloquium."
Due to the timely nature of the topic, the event is expected to draw wide interest from audiences across disciplines at UC Davis, other universities and colleges, museums and art organizations, and the general public, Yonan said. In addition, this year's online format due to COVID-19 will broaden the colloquium's global reach.
Each of the guest speakers will make a presentation, engage in a larger conversation led by Yonan, and respond to questions from the audience.
In her talk "Museums As Sites for Cultural Change," Cooks will discuss Black representation in mainstream art museums and pressures museums face today to decolonize their spaces and rethink their functions. Cooks is author of the 2011 book Exhibiting Blackness: African Americans and the American Art Museum, which was awarded the inaugural James A. Porter & David C. Driskell Book Award in African American Art History. She is co-editor with Jennifer Wagelie, academic liaison at the Jan Shem and Maria Manetti Shrem Museum of Art at UC Davis, of the forthcoming Mannequins and Museums: Power and Resistance on Display. Cooks has also served as an exhibition curator, including "The Art of Richard Mayhew" at the Museum of the African Diaspora in San Francisco.
Templeton Endowed Chair On What 18th-Century Art Tells Us About Today
Vogel's presentation "The Accidental Plan: African Art in American Museums After the Civil Rights Movement" examines the wave of African art collections and blockbuster exhibitions mounted by American art museums as they sought to respond to the civil rights movement. Vogel was founding director of the Museum for African Art in New York, director of the Yale University Art Gallery, a curator at the Metropolitan Museum of Art and a professor of art history at Columbia University. She is author of El Anatsui: Art and Life, director of the film Fold Crumple Crush: The Art of El Anatsu and co-author of Exhibition-ism: Museums and African Art.
"The entire art history faculty were behind using the colloquium to address these topics, and Alan Templeton was very enthusiastic," Yonan said. "These are issues art historians in general and at UC Davis are willing to grapple with."
The colloquium is co-sponsored by the Jan Shrem and Maria Manetti Shrem Museum of Art at UC Davis.
— Jeffrey Day, content strategist in the College of Letters and Science
Primary Category
Tags