UC Davis Archaeological Field School
Digging for Clues to Past Cultures—and Future Jobs
Pink and blue pin flags fluttering in the grass and a few rectangular patches of bare earth—some revealing ancient grinding stones—were the most visible marks of three weeks of student labor on the edge of Suisun Marsh near Fairfield, California.
Ten undergraduates and two graduate student instructors endured swarms of mosquitos, tramped through thistle and sifted through shallow layers of dirt to identify and map clues to the lives of the Patwin people who once hunted and fished here.
Welcome to Trinomial CA-SOL-346 at Rush Ranch Open Space reserve in Solano County, the second of two sites excavated by students in the UC Davis 2016 Archaeological Field School. 
Four decades of student training
Offered since the 1970s, the field school provides students with a foundation in archaeological survey, excavation and other field methods—training that can lead to employment after graduation. 
"We have quite a few who are ready to start looking for jobs," said Roshanne Bakhtiary, one of two anthropology graduate students who taught the six-week course.
Ellen Garcia, who completed her anthropology degree in June, had a job lined up with California State Parks in Sacramento before she even finished the course. 
Co-instructor Nick Hanten said state and federal laws protecting environmental and cultural resources create a number of jobs for archeological field technicians.
Hanten, who took the field course himself as part of his undergraduate anthropology studies at UC Davis, went to work for a cultural resources management consulting firm after graduating in 2011. "My mom was quite happy that I had a job in the thing that I studied in as an undergrad," he said. 
Two dig sites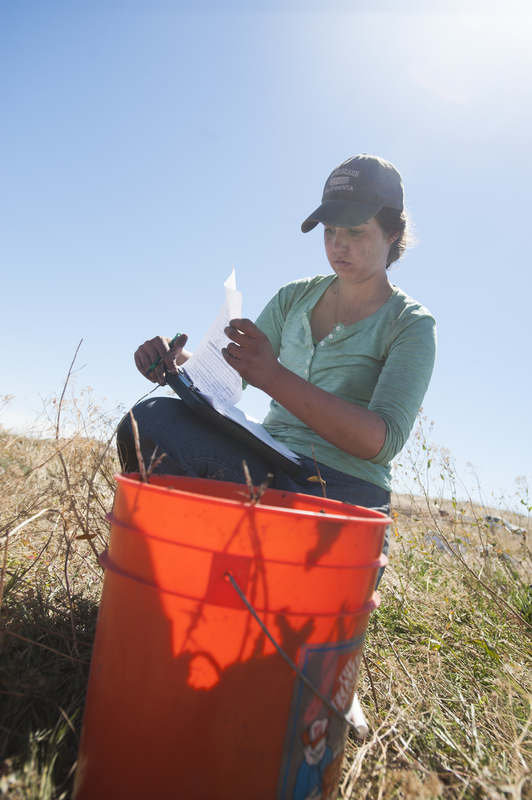 This summer, students started the six-week course at Blue Oak Ranch Reserve, a UC-managed reserve in Santa Clara County where they carefully dug through midden (prehistoric refuse heaps) for clues to the ways of life of the Ohlone people. 
The second half of the field school took them to Rush Ranch, about five miles southeast of Fairfield. Archaeologists had found some grinding rocks when the Solano Land Trust acquired the property in 1988, but Bakhtiary said the site had never been excavated until the field school students arrived. During their time there, the students mapped 28 bedrock mortars. 
They also collected stone tool fragments, projectile points, shell beads and the remains of long-ago meals—bird bones and freshwater mussel shells—to bring back to UC Davis for lab testing. 
Bakhtiary said the finds will further her doctoral research on how people harvested shellfish in different regions of the San Francisco Bay Area. 
'A full body workout'
Field school is physically demanding. Students lived on-site—the first location in cabins and the second in tents—and took turns cooking meals for the group. They worked eight-hour days Monday through Friday and half days on Saturday. They walked up to 15 miles a day and moved a lot of soil—shoveling it, lugging buckets and sifting dry dirt or hosing mud through screens. 
"You do a lot squats and lunges while you're screening," said Shelly Goswami of San Jose. "It's a full body workout." 
And as they surveyed, marked excavating grids and scraped away dirt in layers measuring 5 to 20 centimeters thick, they took copious field notes. 
Juliet Hook, a senior from Altadena, said she ended up liking the course far more than she anticipated. "I love it. It's so much more interesting when you get to see and do the things you learn about."
— Kathleen Holder, content strategist in the UC Davis College of Letters and Science
Primary Category
Tags