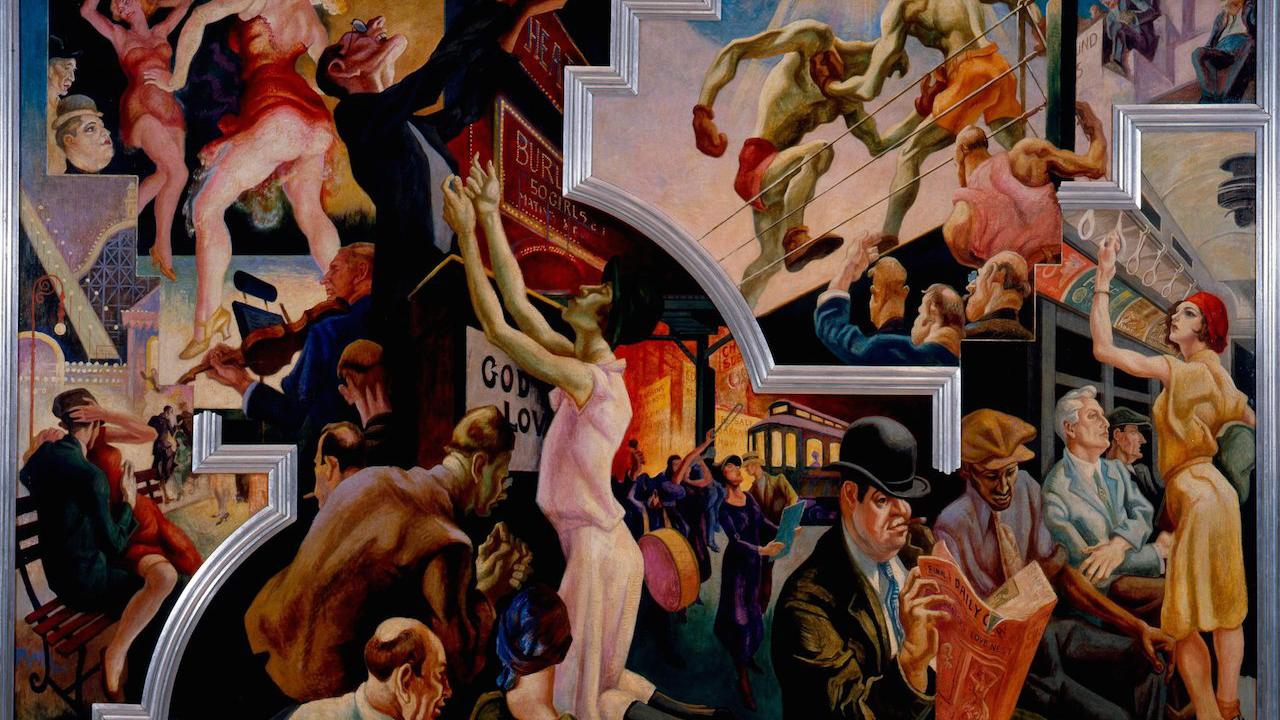 New York City in 1935 was a melting pot of talents, hopes and dreams, attracting young artists ready to conquer the world. For the musical "Flora the Red Menace" – set in this period of upheaval and change – directors, choreographers, designers and dramaturgs at UC Davis have immersed themselves in the fashion, politics and art of 1935.
With that goal in mind, Professor Mindy Cooper and graduate students Diego Martinez-Campos, Tasa Gleason and Joseph Schupbach focused their research on key elements of the musical's 1935 storyline: the Works Progress Administration (WPA), Manhattan, communism, bohemian artists, and even the dance moves of Fred Astaire and Ginger Rogers.  
Using their combined research, the collaborators, working with graduate and undergraduate performers and technicians, bring life to the story of a young fashion illustrator attempting to launch her career in the middle of the Depression.
Each of the collaborators have provided insight into their research for the production, which opens on Feb. 28 at the Wyatt Pavilion Theatre.
Mindy Cooper, professor, director
Deciding to direct "Flora the Red Menace" for the UC Davis Department of Theatre and Dance was an easy decision. Young artists ready to conquer the world, but the world is in a state of upheaval and great seismic change. 2019? No. 1935!
I love working on period pieces because it makes me dig deeper into facts and themes and mindsets of the era. New York City 1935 was a melting pot of talents and hopes and dreams. FDR's New Deal had just established the WPA's Federal Theatre Project. The Project helped resurrect the arts during the Great Depression with an infusion of money and work that was created to give artists the chance to flourish once again. My favorite part of the WPA besides the theater was the Murals Project funded by the Federal Art Project (FAP). Artists from all over the country were tasked with creating very American murals to celebrate and reinfuse pride in our heritage. They were designed and created for locations all over the United States as installations in office buildings, post offices, hallways, and everywhere people walked and gathered. 
These murals have inspired my direction of "Flora" this year. The murals were bold and dynamic, insightful and young. They represented ever-hopeful visions by mostly unknown artists. And we have incorporated their themes and energy in this production, as inspiration and as literal jumping off points for staging. And we also fill the Wyatt Theatre's surfaces with images by way of projections, creating a bit of an immersive experience for the audience and an insight into an era gone by. 
Joseph Schupbach, graduate student, dramaturg
Researching "Flora the Red Menace" for a 2019 audience is a layered journey. There are the historical elements and plot points of the 1930s, the Great Depression and labor rights movement, all woven with the popular culture of mid-century America. There is the nuance of John Kander and Fred Ebb storytelling style, accessing vaudeville, variety show, musical word play, and presentational comedy in the 1960s setting for the original audience. And then, in turn, we make new connections to an audience and cast populated with millennials and Gen Z-ers. With a show that is so robust in historical references and context, there is a lot to unpack and uncover for the cast. The exploration of the Works Progress Administration and Franklin D. Roosevelt's mission of putting artists to work is especially fascinating and important for our young artists to understand and investigate. The intersection of the New Deal and the surrealist, muralist, futurist and cubist movements paints an epic backdrop for the events of the play and offers fascinating insights into today's world.
Tasa Gleason, graduate student, costume designer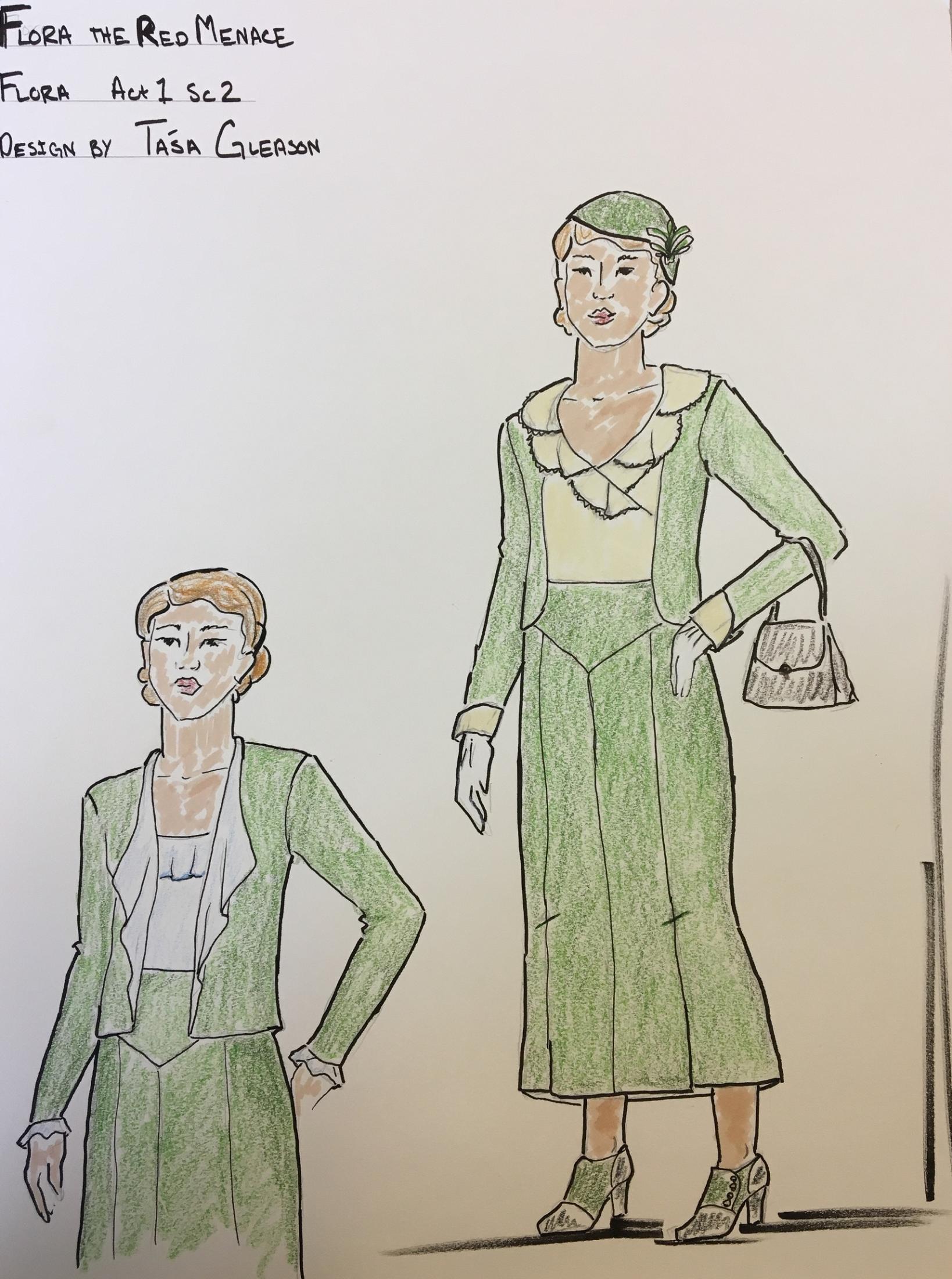 I was so thrilled to be asked to design "Flora" this quarter. At the start of a design process, I do several things at once. I read through the script, I meet with the director (in this case Professor Mindy Cooper and visiting Granada artist, Judith Blazer) and other designers, and I immerse myself in research on the period. For a show that is set in a specific time and place, like "Flora" is, I try to do as much research as possible on what people were actually wearing. For this musical, this was relatively easy because it's set in New York in 1935 and there are thousands of photographs of actual people. In addition, there is a lot of documentation of events and reprints of things like Sears catalogs and other advertisements/mail-order sources for clothing. I remember Professor Maggie Morgan (costume design faculty here at Davis) telling me that it's always better to have too much research rather than not enough!
The characters in the musical are mainly struggling, working artists. However, I looked at the full spectrum of social classes and what they were wearing because they all relate to each other. Even though we don't have anyone in the play representing the most impoverished or upper crust, it informs my design to have that information. After I've gathered some research to start with, I read the script again and have a more specific character conversation with the director. I also start focusing on characters and how to represent them. For Flora herself, we wanted to highlight that she is very optimistic and a romantic at heart. To emphasize that, she's dressed in softer lines and colors than the other characters. Sometimes these subtle decisions, which the audience may only pick up on subliminally, can be the most fun to make!
— Michael French, arts marketing specialist in the UC Davis College of Letters and Science
Category
Tags