Critic Maya Phillips to Give Talk on Stories of Alternate Realities
Lunn Lecture explores the 'Multiverse of Madness' in Marvel and other narratives
The multiverse, long a topic of science fiction and fantasy, seems to be popping up in narratives everywhere, notes Maya Phillips, cultural critic for The New York Times.
The concept that originated in quantum mechanics features prominently in the "Rick and Morty" animated TV series, the recent film Everything Everywhere All At Once and the latest Marvel movie, Dr. Strange in the Multiverse of Madness.
Phillips will explore "Storytelling in the Multiverse of Madness" in a talk on May 5 at 4:10 p.m. at the Jan Shrem and Maria Manetti Shrem Museum of Art at UC Davis — one day before Dr. Strange opens in theaters nationwide.
This year's Lunn Memorial Lecture, sponsored by the UC Davis Department of History, is free and open to the public.
"The multiverse opens up stories to infinite possibilities, but it also complicates basic story structure and character development and risks alienating the audience and introducing endless contradictions. What can we learn from the multiverse as writers and readers of stories? What comes after the multiverse? And is madness all that we can wish for?" — Maya Phillips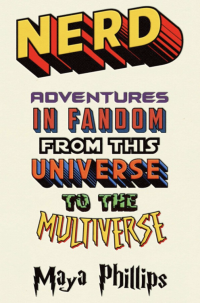 As a critic for The New York Times, Phillips writes about theater, movies, TV, books and nerd culture. Her forthcoming book, NERD: Adventures in Fandom from this Universe to the Multiverse, explores race, religion, sexuality and more through the lens of pop culture fandoms.
She is also the author of the poetry collection Erou, which was a finalist for the PEN Open Book Award and winner of both the 2019 Balcones Poetry Prize and 2020 Poetry by the Sea book award.
Insights into culture and history
The annual Lunn Lecture commemorates Eugene Lunn, a cultural and intellectual historian who taught at UC Davis from 1970 until his death in 1990. The lecture is supported by a donation from alumnus Michael Tennefoss (B.A., political science and economics, '80).
This year's lecture is co-sponsored by the Manetti Shrem Museum.
"All our speakers address culture and ideas," said Michael Saler, professor of history and an organizer of the Lunn Lecture series. "Usually the lecturer is an historian, but we have also invited other public intellectuals who have interesting insights about culture and can communicate to a broad audience."
Past speakers include literary historian Stephen Greenblatt, historian of science Lorraine Daston, historical novelist John Crowley, Pulitzer Prize-winning biographer Stacy Schiff, New Yorker essayist Louis Menand and the late philosopher Richard Rorty.
The topics of Phillips' new book — gender, race and fan culture — are growing fields of study for cultural historians, sociologists, media studies and other disciplines.
"Even her topic of the multiverse jibes with history," Saler said. "Historians address questions of causation and change over time, and sometimes consider 'counterfactuals,' such as 'What if Kennedy had not been assassinated?,' which helps clarify the consequences of the actual assassination. So alternate history and the multiverse are tools of the profession!"
— Kathleen Holder, content strategist in the UC Davis College of Letters and Science
Primary Category
Secondary Categories
Tags