2015 - Nicholas Dias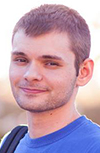 Three months after graduating, Nicholas Dias (B.A., psychology and communication, '15) was preparing to wing his way to a writing internship in Argentina. Dias, who graduated in June 2015, planned to leave in late September for a year in Buenos Aires as part of his internship with national honors society Phi Beta Kappa. He will write for Phi Beta Kappa's The Key Reporter and seek a job with an English-language publication in Argentina's capital.
A former California Aggie staffer, he is a data journalist—"meaning that I use my own statistical tests, rather than interviews, as the basis for my reporting." Eventually, he'd like to attend journalism school and research the optimal roles of different types of media in informing citizens of particular democracies.
Primary Category
Tags