UC Davis Arts and Humanities Graduate Students' Wide-Ranging Work Takes Center Stage With Annual Exhibition  
Many universities hold annual Master of Fine Arts exhibitions showing what students have accomplished during their studies. The model is more expansive at the University of California, Davis, showcasing the breadth of work from students in departments across the College of Letters and Science. 
At this year's Arts and Humanities Graduate Exhibition, on view June 8-25 at the Jan Shrem and Maria Manetti Shrem Museum of Art, students in history, performance studies and English as well as design and art will take part. A free, public opening celebration will take place June 8 from 6 to 9 p.m. Art history students will present their research the following day. In all, 30 Master of Fine Arts, Master of Arts and doctoral students are participating. 
Participating Students
ART HISTORY:  Simone Gage, Hunter Kiley, Xuying Liu, Hannah Thompson, Srđan Tunić and Sienna Weldon  
ART STUDIO:  Jordan Benton, Justine Di Fiore, Alberto Hamonet, Will Maxen, Sam Rathbun and Luka Vergoz
CREATIVE WRITING: Jake Rose  
DESIGN:  Hafsa Akter, Valeria Diana Araiza, Cristina Gomez, Nilou Maleki, Justin Marsh, Quinessa Stibbins, Alejandra Ruiz Suarez, Pachia Lucy Vang, Ofelia Viloche, Marcy Wacker and Rova Cigdem Yilmaz 
ENGLISH: Allison Fulton and Grace Hayes 
HISTORY: Zehra Ilhan 
PERFORMANCE STUDIES: Avital Meshi, Maurice Moore and Eric Taggart
"The graduate student exhibition is a wonderful example of what the College of Letters and Science is all about," said Dean Estella Atekwana. "It shows how the college is a creative, supportive environment where students can find innovative avenues to explore without boundaries. As a geoscientist, I see how the exhibition reveals the many layers of the college and how they are connected. This unique multidisciplinary exhibition is always a place to find the unexpected." 
Many students take on pressing issues of our time, including racism, the implications of artificial intelligence and humans' environmental impact, offering both practical and idealistic ways of thinking about and solving problems. Others engage with personal experiences, memory and aesthetic practices. Many do both. 
"This exhibition showcases the exciting projects and scholarship UC Davis' graduate students produce and how they choose to present it," said Rachel Teagle, the museum's founding director. "We are proud to serve alongside the Office of the Chancellor and Provost and the College of Letters and Science Dean's Office to promote and celebrate students' graduate work in the arts and humanities." 
A sampling of what you'll see and experience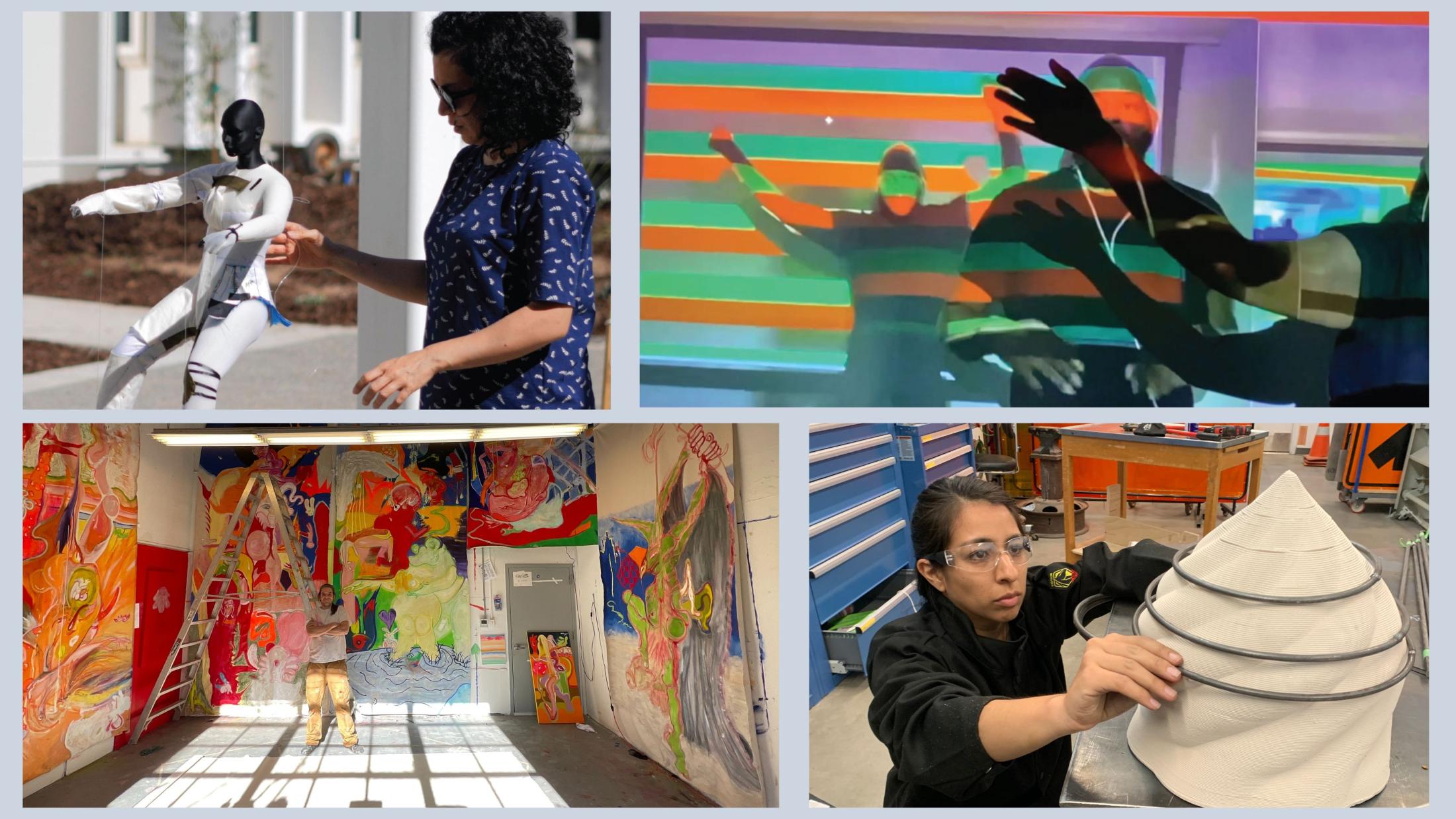 Allison Fulton and Grace Hayes (English) have created an artist's book that interweaves text, hand embroidery and sewing to explore new approaches to literary theory. At the opening event, they will lead a hands-on workshop on making zines from 6 to 7 p.m. 
Zehra Ilhan (history) will illustrate how Ottoman-era book and album paintings from the 15th through 17th centuries represented women and shed light on cultural expectations for women during the time. 
Maurice Moore (performance studies) will show videos that draw on movement and voice, visual poems and music that employ and explore Black, queer and trans mark-making and theory.
Sam Rathbun (art studio) is a painter and sculptor whose art ruminates on rural life and how it has been depicted in art, often challenging those portrayals. Her work reveals aspects of agriculture that are raw and brutal, as well as tender and seductive, and the interconnectedness between humans and the natural world.
Quinessa Stibbins (design) makes clothing that combines function, aesthetics and storytelling — in this case, garments that protect protesters and reference images connected to the murder of George Floyd by Minneapolis police. 
Srđan Tunić (art history) will present his research into the work of illustrator and fine artist Mary Foley Benson, who worked at UC Davis from 1964 to 1972. Tunić will give a talk at 7:45 p.m. during the opening event. 
Rova Cigdem Yilmaz (design) develops clothing for space travel that is aesthetically pleasing, comfortable, and has resistance capabilities to combat muscle and bone atrophy.
Luka Vergoz (art studio) collects, alters and arranges items found in dumpsters and on the streets into installations that explore ideas of scale, language, physics and queerness.  
Three prizes to be awarded 
The winners of the LeShelle & Gary May Art Purchase Prize, the Keister & Allen Art Purchase Prize, and the Savageau Award in the Department of Design will be announced at the June 8 opening celebration. The prizes enable the museum to purchase graduate student work for the university's Fine Arts Collection. 
Art history students will present their work at a colloquium at the museum from 2:30 to 5:30 p.m. on Friday, June 9. 
— Jeffrey Day, content strategist in the UC Davis College of Letters and Science
Primary Category
Secondary Categories
Tags