UC Davis Historians Receive National Parks Funding to Collect Women's Stories
Two UC Davis historians have received funding from the National Park Service to address the educational gap in U.S. women's history and role in the nation's national parks. Professors Ellen Hartigan-O'Connor and Lisa Materson will craft 80 biographies of women involved in national parks in the western region of the United States, and, in a longer article, connect those women's lives to the ongoing struggle for voting rights.
The park service gave grants totaling $460,000 through its Women in Parks initiative after a survey they distributed early this year indicated most American adults say they wish they were taught more about women in U.S. history.
"Many people visit the national parks to appreciate the beauty of the region. We will offer the public a richer, more complete picture of the social and political life that sustains them," said Hartigan-O'Connor.
Project commemorates 19th Amendment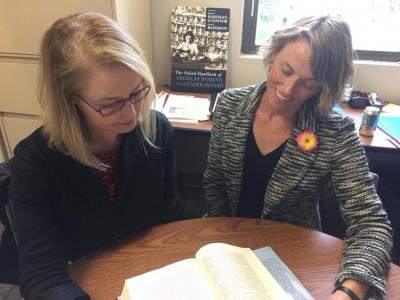 The two faculty, who have collaborated for more than a decade on multiple projects, will work together on the project, which commemorates the 19th Amendment and supports inclusion of women's stories in park and regional education and media programs. The region covered includes parks in Oregon, California, Nevada, Idaho, Hawaii, Guam and American Samoa. The 19th Amendment to the U.S. Constitution was ratified 100 years ago. It stated that the right of citizens to vote "shall not be denied or abridged … on account of sex." Notably, in the U.S. colonies of Guam and American Samoa, included in this project, both women and men are denied the right to vote for president, and they do not have a voting representative in Congress, Materson said.
Their work will highlight the centrality of women to the creation and development of national parks and connect the parks to the broader history of women in the United States and its Pacific colonies. Their research will uncover the seldom discussed naturalists, activists, domestic laborers and artists whose efforts created and maintained the parks.
Primary Category
Tags