Faculty Member Examining Art on Borders as Part of Multicampus Latinx Project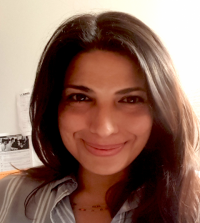 As part of a $1.8 million award from the UC Office of the President, Assistant Professor of Chicana/o Studies Ofelia Ortiz Cuevas will examine how artists around the world have created public protest art. She plans to bring artists from Cuba, Vietnam, the Middle East, Africa and other places together for a symposium, create a graphic publication and organize an exhibition of their work. She will be collaborating with the Taller Arte del Nuevo Amanecer (TANA), an artmaking program and printmaking studio of the UC Davis Department of Chicana/o Studies located in Woodland, California.
She will participate in The Global Latinidades Project​: Globalizing Latinx Studies for the Next Millennium, a five-campus collaboration across the University of California to expand Latinx studies outside of the Americas, where it has long been concentrated. Each campus will engage in additional grant initiatives, organize a conference and develop courses that take a global view of Latinx studies.
"I'll be examining art that arose in places where borders have been redefined and are shifting, war zones and anti-colonial independence movements, especially art tied directly to these movements and the communities these movement were based in," Cuevas said. "The Chicana and Chicano arts movement of the 1960s has been well studied and we want to see how people in other parts of the world, going through similar political and social struggles, have responded artistically. It will be interesting to see how the movements have influenced one another and how they compared to one another."
The overall aim of The Global Latinidades Project is to assess new and complex models of Latinx life, culture and history that have synthesized through contact with peoples and cultures throughout the world, according to project director Ben Olguin, Robert and Lisa Erickson presidential chair in English at UC Santa Barbara. Other campuses involved are UC Merced, UC Riverside, UC Santa Barbara and UC Santa Cruz.
Several years ago, Cuevas and Olguin were discussing changes to the Mexican-American border during the last 150 years. This led to further talks about wars, such as the conflicts in Vietnam and the Algerian War of Independence, and the creation of new borders. When The Global Latinidades project was being developed, Olguin asked Cuevas to take part.

UC Davis, with its strong Department of Chicana and Chicano Studies and TANA, provides a unique and perfect partner for the project, Cuevas said. TANA was co-founded by Maliquis Montoya, professor emeritus of art, who was deeply involved in the Chicano rights movement of the '60s and '70s and started the Mexican-American Liberation Art Front. 
"With its roots in the Chicana and Chicano movement, TANA is an ideal space where international collaboration with other artists and scholars grounded in anti-imperial, anti-colonial and liberation practices," Cuevas said.
The Global Latinidades is one of four recent Office of the President multicampus awards totaling $19 million that involve the College of Letters and Science.
— Jeffrey Day, content strategist in the College of Letters and Science
Primary Category
Tags