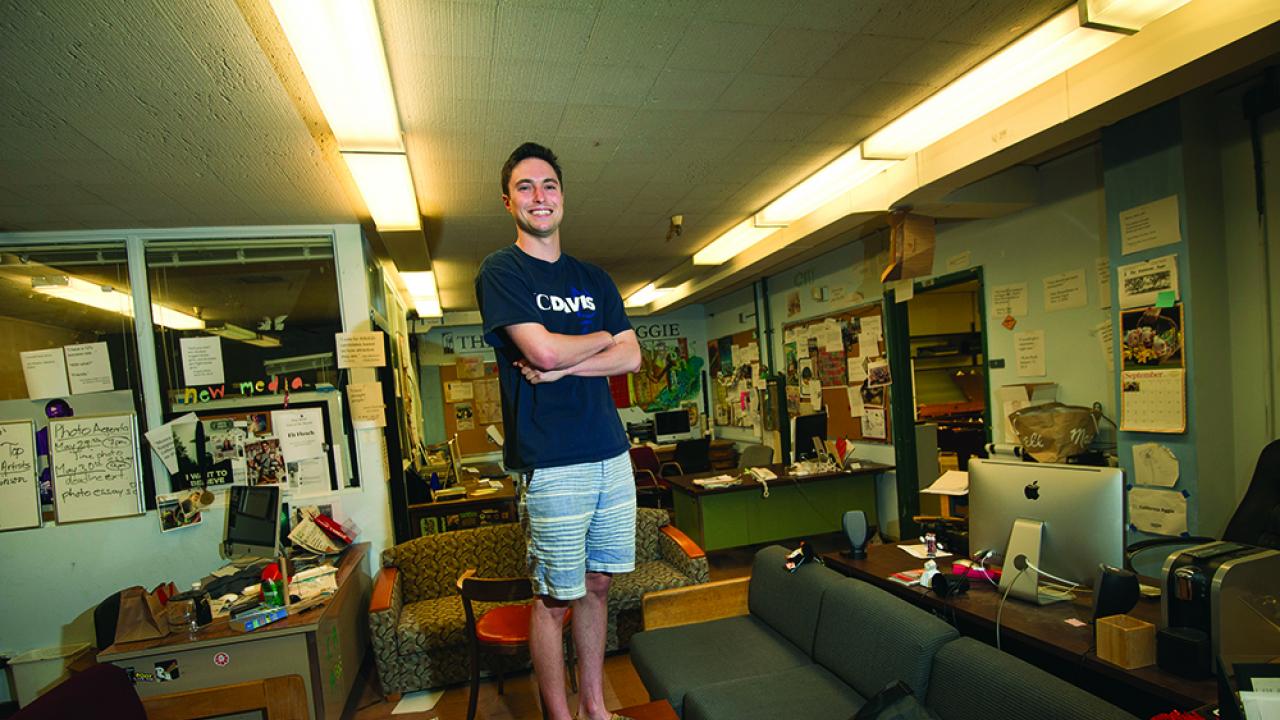 An Effort That Would Make Gutenberg Proud
Scott Dresser started his second year as editor in chief of The California Aggie with a brand-new challenge: locating the news racks that used to dot the campus. 
It was a problem that Dresser could relish—born of a successful campaign by the political science/economics double major and other student staff members to bring The Aggie back to print after 2 ½ years of online-only editions. 
With $230,000 in operational funding from an $11.19 annual fee passed by students last year, The Aggie began printing a weekly edition on Thursday, Sept. 22—the first of 30 planned for 2016–17. 
A century-long history
The return to print came 101 years after the student-run newspaper made its debut as the Weekly Agricola on a fledgling campus then known as the University Farm. [Read more about the paper's history.]
One of the oldest student newspapers in California, The Aggie during its heyday published five days a week, covering its print and online operations with about $500,000 in annual advertising revenue. But that revenue stream evaporated as advertisers moved online, and the paper ceased print publication in March 2014.
Led by liberal arts students
Last winter, Dresser and other Aggie editors and managers—most of them College of Letters and Science majors—asked student voters to add $3.73 a quarter to their fees for five years to bring the print paper back. 
The "Print The Aggie" initiative was the second attempt in three years to pass a fee to support the paper. A similar measure in winter 2014 received the needed majority of those voting, but failed because of lower-than-required voter turnout. 
To get out the vote this time, Dresser and his staff campaigned hard—setting up tables on the Quad, speaking to classes and clubs and meeting students as they returned to campus late at night and early in the morning. They also printed a special 100th anniversary issue to show students what they were missing. 
Making the campus 'a better place'
The measure passed, squeaking past the required 60 percent with 61.53 percent voting yes and surpassing the 20 percent voter requirement with 21.68 percent.
"I think it was just an indication that UC Davis students really do want to be informed," Dresser said. "We were the only UC campus without a print paper."
Dresser, who grew up in Walnut Creek reading newspapers, said he takes pride in exposing other students to the "intrinsic value" of a print paper in addition to news online.
"There are so few times you have the opportunity to create tangible, lasting impact on a community," he said. "It's probably the hardest thing I've ever done—and the most rewarding. We made a campus of 35,000 people a better place."
— Kathleen Holder, content strategist in the UC Davis College of Letters and Science
Category
Tags