The Institute for Social Sciences (ISS) hosted its inaugural Noon Lecture in November with a joint talk by two UC Davis professors of political science presenting an analysis of the 2014 midterm elections.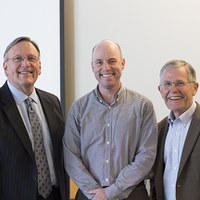 In their talk on Nov. 12, 2014 — "2014 in the Rear View Mirror: What Have We Learned?" — Professor Benjamin Highton and Distinguished Professor Robert Huckfeldt discussed the implications these midterm elections have for California and the 2016 presidential race.
The Noon Lectures series, formerly hosted by the shuttered Institute for Governmental Affairs, is an ISS featured event. 
"This continues the long tradition of post-election analyses that have been done by social scientists, most often political scientists, during the Noon Lecture series," said social sciences dean George R. Mangun, a founder of ISS. 
Highton and Huckfeldt's talks focused broadly on what the midterm elections suggest about the state of American politics and the futures of both the Democratic and Republican parties. 
"If you make a list of the factors that caused these midterm outcomes, and then a list of factors that cause presidential outcomes, what happens in 2016 has virtually no bearing at all on what just happened," said Highton. 
Before joining UC Davis, he has worked in Washington, D.C., as an APSA Congressional Fellow. He is currently a contributor to The Washington Post's Election Lab, which forecasts the outcomes of U.S. House and Senate elections. 
"California doesn't look like the rest of the country," said Huckfeldt, "but neither did New York. Both states were barely affected by the midterm elections." Huckfeldt was formerly director of IGA. 
The format of the Noon Lectures takes its lead from the IGA events, which took place during the lunch hour. The lectures brought a mix of faculty, students and people from the Davis community to listen and participate in the exchange of ideas. 
"This formula worked so well, and the noon lectures played such an important role in the academic life of our campus, that we have decided to continue them with ISS," said Mangun. 
This article originally appeared on the website of the UC Davis Institute for Social Sciences. 
Tags