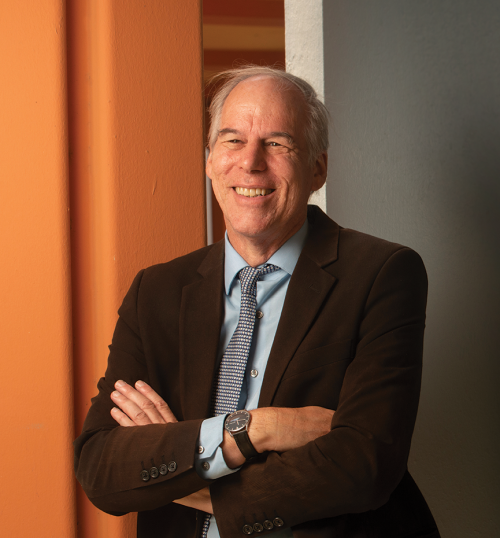 UC Davis Medal recipient elevates arts and humanities on campus and beyond
Alumnus Alan Templeton recently received the highest honor the university bestows: the UC Davis Medal. Templeton (B.A., art history and psychology, '82) reflects on his contributions to the College of Letters and Science and university in big and small ways.
"I've been fighting my whole life to show that it is fundamental that we start taking the arts and humanities more seriously," he said. "Everything I've supported for the past 25 years is an attempt to connect more deeply with the humanities."
Templeton is also modest about his contributions, dubbing them "the Templeton travel agency" because at the core they simply bring together scholars, students and the public — near and far — to share knowledge and make connections. 
His efforts have made a significant impact on the humanities at UC Davis. A generous philanthropist, Templeton created the Templeton Colloquium in Art History; the Templeton Endowment for the Arts and Letters, which supports research for graduate students in humanities, arts and social science programs; a languages and literatures speaker series; and the Templeton Endowed Chair in the History of European Art, 1600–1830, a prestigious faculty position.
"Everyone learns something, it's morale boosting and creates excitement," Templeton said, adding that the programs also put UC Davis on the map in arts and humanities research. 
Alan has been a tremendous contributor to the thriving culture and rising importance of the arts and humanities at UC Davis, which continues to grow to this day. He has helped make these fields increasingly accessible to faculty, graduate students and the public."  — UC Davis Chancellor Gary S. May
Those he has worked with at UC Davis appreciate his financial support as well as his deep understanding of the areas he is passionate about. 
"I was privileged to come to know Alan as a humanist with expansive interests and profound literary sensibilities and talents," said Emily Albu, professor emerita of classics. "Alan has enriched our community in more ways than he can realize, deepening the bonds among language faculty as we conspired to animate his vision."
Talinn Grigor, co-chair of the Department of Art and Art History, said Templeton is "not just an abundantly generous patron of the arts, but also a renaissance man with a deep understanding of the arts and their place in human history."
As a UC Davis student, Templeton studied art history and psychology, finding that each provides an insight into the other. His love of European art and culture blossomed while his family lived in France when he was a child. Specifically, he feels the art of 18th-century Europe has much to teach us about the world today, and that its impact isn't acknowledged enough. Along with UC Davis, Templeton has worked with the Berkeley Art Museum/Pacific Film Archive, the Crocker Art Museum and the Art Institute of Chicago on projects of the period.
"I was looking for where I could make a difference and, as a whole, improve the cultural life of Northern California," said Templeton, who works primarily as an investor, but has also worked at museums, for a labor union and as a teacher.
Templeton learned about giving back from his parents, David and Lieselotte, who were faculty members at UC Berkeley. After his mother's death in 2009, his father created a chemistry professorship with a preference that it be filled by a woman with children.
"It is a wonderful honor to be recognized in this way," Templeton said about receiving the UC Davis Medal. "I hope it may bring more attention to all the great research and teaching being done in the arts and humanities at UC Davis." 
— Jeffrey Day, content strategist in the UC Davis College of Letters and Science, wrote this article for the fall 2021 issue of Letters & Science Magazine.