2006 - Maureen (Pacheco) Maycheco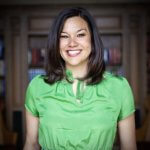 Maureen (Pacheco) Maycheco (B.A., history '06) launched a new podcast this fall with friends and colleagues at One K Creative, a creative agency in Boulder, Colorado. The podcast, Good and Social, is a series of conversations with social and environmental innovators from across industries.
"Launching the pod has been an incredibly exciting and scary adventure," Maycheco said. "I am beyond proud and excited to be part of a female-owned and -founded brand focused on telling stories of social good and positive impact!"
New episodes are released each Wednesday. You can listen on iTunes, on Google Play, or on Sticher.
On Instagram, you can follow Good and Social at @goodandsocial and Maycheco at @mopachec.
Primary Category
Tags