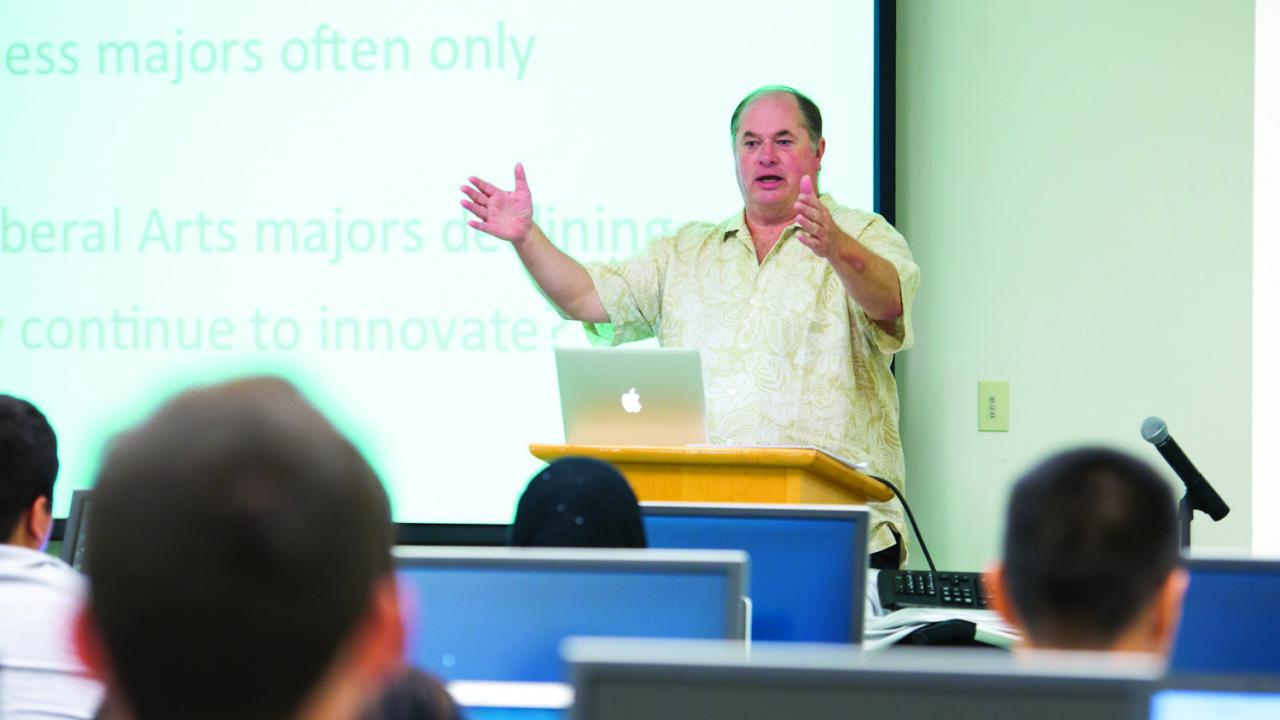 Tim McCarthy, B.A., International Relations and Economics, '73
In a world driven increasingly by information, Tim McCarthy (B.A., International Relations and Economics, '73) believes that what companies need most to succeed are more employees with liberal arts degrees.
In recent conversations at more than 20 Northern California companies — a number of them technology firms in the Silicon Valley — executives told him, former dean George "Ron" Mangun and a select group of UC Davis faculty that they have plenty of engineers. What they lack are workers who understand how people think, who communicate well, and who can create knowledge. In short, liberal arts majors. But they must also know how to crunch data to answer fundamental business questions engineers don't ask.
McCarthy knows the value of a liberal arts perspective from his own education as well as his 42 years in financial services, including stints as president of Charles Schwab and Nikko Asset Management. So McCarthy reached out to professors at UC Davis to find a way to teach students in majors as diverse as English, art, and communication how to mine and analyze data. The result is a pilot data studies program.
"It dawned on me that being a STEM [science, technology, engineering or math] major doesn't help you get insights into the data," he said. "Sociology, history and other liberal arts fields teach people how to think ... how to read and write."
Yet, with costs of a college degree rising and job prospects often slim for liberal arts majors, students nationwide have flocked to business and science programs. Enrollments in many social sciences and humanities degree programs have declined.
"We really do need lots of people getting liberal arts degrees, but we have to get them jobs," he said. With training in data analysis and some basic software skills, "They could go into a firm and immediately make money for them."
Many companies no longer invest in training new employees, he said. When he started his career on Wall Street, firms provided six months or more of training for new employees. That training now lasts only a few days. "Firms have to think so short-term, they can't buy green bananas."
In building his own management teams, McCarthy said, he sought the broadest diversity in age, gender, ethnicity and educational backgrounds because "you get better arguing."
Spending more than half of his career overseas, McCarthy saw wide differences in how well nations connect academics with their private sectors—with tech-savvy Singapore and Ireland leading the way, Japan falling behind and the United States somewhere in the middle.
So after the 2014 release of his book, The Safe Investor: How to Make Your Money Grow in a Volatile Global Economy (Palgrave MacMillan), McCarthy welcomed an invitation from Mangun, then-dean of Social Sciences, to reconnect with his alma mater.
McCarthy said he was impressed by the initiative shown by Mangun, anthropology professor Joe Dumit, development director Karen Block and others at the university to interview business leaders and start the data studies courses. "They were so entrepreneurial — just as entrepreneurial as a Silicon Valley start-up. The result was a pilot three-course data studies program designed to help liberal arts majors increase these skills and their marketability in a short period of time. My hat's off to them."
McCarthy said he will be forever grateful for his UC Davis education — and for practical advice he received from two professors after he transferred from community college.
International relations professor Randolph Siverson and economist Andrzej Brzeski both encouraged him to go to business school after graduating.
At Brzeski's urging, McCarthy applied to Harvard Business School. "Lo and behold, I got in." He completed his MBA there in 1978, graduating as a Baker Scholar in the top 5 percent of his class.
Another pointer from Siverson helped guide his career. "Randy said, 'Don't fall in love with any particular job. Be flexible,'" McCarthy recalled. "That was terrific advice to get when you're 19 or 20."
During a guest lecture to the data studies class this summer, McCarthy told students that Siverson's advice on job flexibility still holds true. "Keep looking for what's not being done well and where the demand for expertise is greater than the supply of trained students," he recommended. "What worked for me, and I think will work for you is: learn stuff that your boss doesn't know."
— Kathleen Holder, content strategist in the UC Davis College of Letters and Science
Category
Tags