Fernando Purcell: Chilean Scholar of U.S. History
Clues to historian Fernando Purcell's deep connections to UC Davis are spelled out in block lettering at his home in Chile:
"ORCHARD PARK," "DAVIS CA BLVD" and "BAUER AVE" read the American-street-style signs on his family vineyard in Colchagua Valley, about 6,000 miles from campus.
The green-and-white signposts pay homage to places where he and his family lived during his 1999-2004 history doctoral studies and to one of his faculty mentors and winemaking inspirations — the late UC Davis historian Arnold Bauer.
"That's an expression of the attachment I feel for California," Purcell said during a recent visit to UC Davis, where he gave a talk on his latest research on U.S.–Chile relations. "I had a great life experience here."
Inspired by history faculty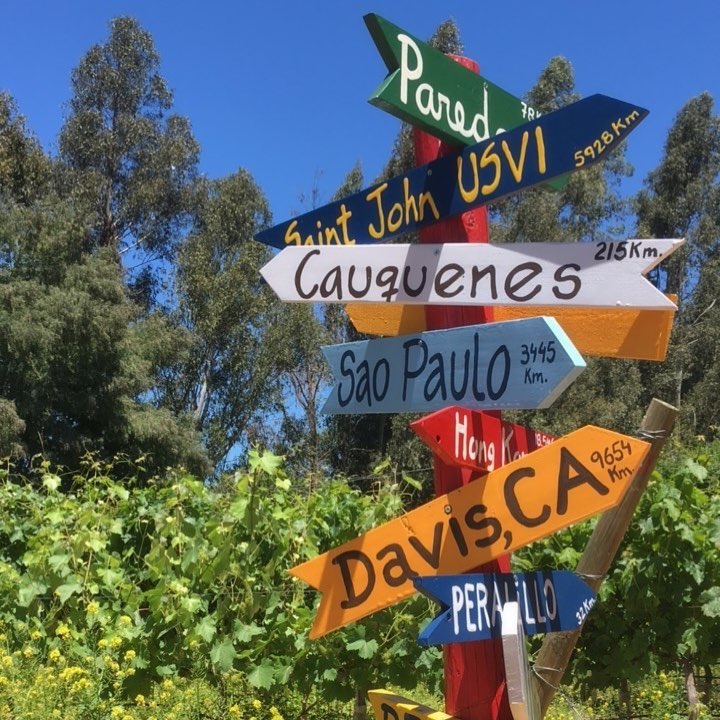 Purcell teaches U.S. history at Pontifical Catholic University in Santiago, Chile. He and wife, Elina Carbonell, run a small winery, Vinos Lugarejo, in Nancagua in Colchagua Province — Chile's "Napa Valley" — about two hours south of Santiago. They have three children; the two oldest were born in Davis.
Purcell said his early motivation to study U.S. history was pragmatic — the chair of the history department at Pontifical Catholic University, where he earned his bachelor's degree, wanted a U.S. specialist and offered to help pay for his graduate education at a U.S. college.
Purcell said he chose UC Davis in large part for its history faculty, among them Bauer, who studied Latin American history and had directed the University of California Education Abroad Program in Santiago, and Alan Taylor, who a few years earlier had won the first of his two Pulitzer Prizes. Louis Warren, the W. Turrentine Jackson Professor of U.S. Western History, became his thesis advisor.
Once Purcell started his history studies at UC Davis, he said, "I became quickly in love with U.S. history, its richness."
Focus on 

U.S.– Chilean relations
His research spans a wide array of eras and topics — Chileans and other immigrants in California's Gold Rush, Hollywood's impact on Chile, the Peace Corps in South America and, his current focus, U.S development of hydroelectric power in South America during the Cold War.
"I love the idea of jumping from one topic to another," Purcell said. "I'm always open to new ideas, questions and topics. But I always deal with U.S.–Chilean relations. That's the basic structure of my interest."
Purcell is a past chair of the history department at Pontifical Catholic University, home to two other history professors also earned their doctorates at UC Davis: Pablo Whipple '07, who is the current department chair, and José Ragas '15.
In August, Purcell became director of a new general studies program that, unlike most other undergraduate studies at the university, allows students to take courses outside their major. "You're too young when you're 18 to decide on your future," Purcell said. "You should have an opportunity to explore."
About 10 percent of Pontifical Catholic University undergraduates have enrolled in the U.S.-style program.
— Kathleen Holder, content strategist in the UC Davis College of Letters and Science
Primary Category
Tags