Alumnus Robert Oden Was on the Front Lines of Change
When UC Davis students were calling for more student and faculty diversity and culturally inclusive programs, Robert Stanley Oden was on the front lines. One of only 40 African American students on campus in 1967, he was a founder of the Black Student Union, the first such group on campus, and wrote a column for The California Aggie called "The Dark Side."
Oden, a native of San Diego, already had a history of activism when he came to UC Davis. He was a member of the Black Panther Party and his older brother was taking part in anti-war protests at UC Berkeley.
His activism took on more urgency when Martin Luther King Jr. was assassinated in April 1968.
"That changed my life," said Oden (B.A., political science, '69). "We decided we had to do something so we held a memorial service. We had 2,000 people on the quad."
This story is part of the 50th anniversary celebration of UC Davis Ethnic Studies. 
African American and White Students Together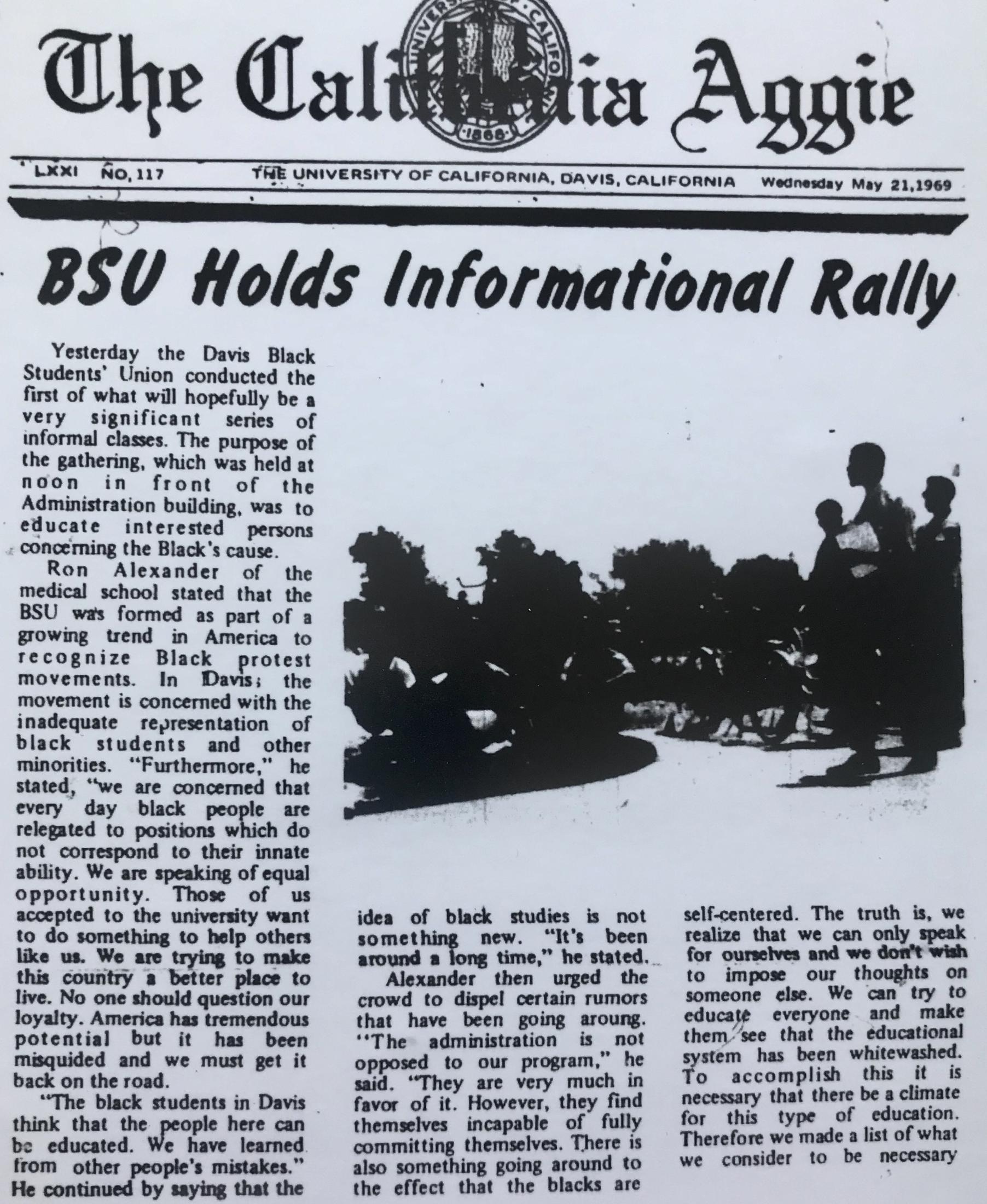 That response showed Oden and other students what could be done, even though there were few African American, Asian American, Native American and Chicano students on campus.
"The drive came mainly from African American students and white student radicals," Oden said, "but we had many allies among faculty and off campus."
At UC Davis there were few confrontations between students and the administration or students and law enforcement, unlike on some other UC campuses.
"We were very organized and disciplined," Oden said. "Davis was out in the middle of nowhere then and we had to create our own movement."
Specific Goals for Diversity and Inclusion
The student activists often presented specific proposals, and in one case created a document spelling out exactly how many African American students, faculty and even financial aid counselors the university should aim to recruit.
Chancellor Emil Mrak met with the students several times, and both he and the next Chancellor James H. Meyer said they supported establishment of ethnic studies programs.
"We were able to get what we wanted faster than at other schools and I believe it had an impact on the whole UC system," Oden said.
Feeling of Accomplishment at UC Davis
After graduation, Oden worked for 20 years in city government as a community development specialist and management analyst in Berkeley and San Diego. In 2000, he earned a doctorate in sociology and has been at Sacramento State University for 15 years. He is author of From Blacks to Brown and Beyond: The Struggle for Progressive Politics in Oakland, California, 1966-2011 and Rivers of Struggle and Resistance: A Social Political History of the Underrepresented in the United States.
After returning to the area in 2004, he became more involved with UC Davis and served as president of the African American Alumni Association from 2015 to 2018.
"I could see the difference when I came back," he said. "Going to campus today, I feel so good about what I accomplished there."
— Jeffrey Day, content strategist in the College of Letters and Science
Primary Category
Tags