UC Davis College of Letters and Science graduate students will share their work with the public as the multidisciplinary "Arts and Humanities 2022 Graduate Exhibition" returns to the

Jan Shrem and Maria Manetti Shrem Museum of Art

following

two years of virtual exhibitions.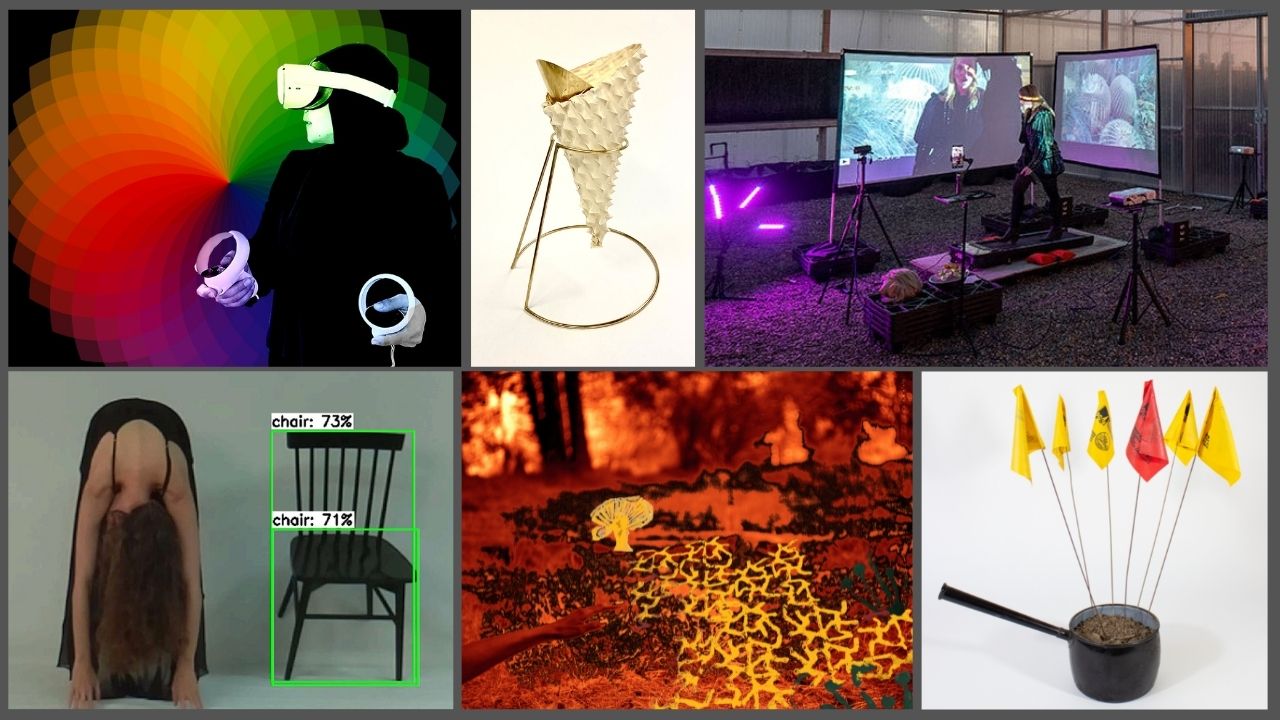 A public opening event with a poetry reading, music and dance will take place June 2 from 6 to 9 p.m. The exhibition, on view June 2 through June 19, and opening event are free and open to all.
The exhibition showcases 27 M.F.A., M.A. and Ph.D. students from art history, art studio, creative writing, design, mathematics, music, performance studies and political science. Their projects take a wide range of forms, including sculpture, photography, ceramics, painting, experimental music score, virtual reality and drawing.
Many of the students take on the pressing issues of our time, including environmental destruction, political divisions, racism, immigration and disability justice, while others engage with personal experiences, memory and aesthetic practices.  
Some examples include:
— Valentyna Hrushkevych (design) developed tableware that acts as a medium between the user and food with materials that vary in texture, color and scent.
— Helia Pouyanfar (art) built five doorways that represent the refugee experience of being forced from one's home and placed in unfamiliar and unnatural settings.
— Emily Szasz (art history) examines the 2017 sale of a painting — attributed to Leonardo da Vinci — for $450 million to show how attributing an artwork to a famous artist can undermine forms of qualitative evaluation.
— Whitney Vangrin (art studio) presents a geodesic viewing dome in the museum courtyard that will offer an immersive video experience designed to "awaken a viewer out of passive observation."
"We are pleased to partner with the museum in presenting the wide and imaginative range of art, design, music, writing and more from our graduate students," said Dean Estella Atekwana. "The annual exhibition is a wonderful opportunity for our students, and also for the campus community and those beyond, to see the excellence of the College on display."
New art purchase prize offered
A new award further celebrates UC Davis' art innovators. The inaugural LeShelle & Gary May Art Purchase Prize will award $5,000 to an art studio M.F.A. student, joining the Keister & Allen Art Purchase Prize and the Savageau Award in the Department of Design.
"Being able to offer two art prizes is exciting news for students," said museum Founding Director Rachel Teagle. "This generous support and recognition underscores our commitment to elevating the achievements of our graduates with this exhibition as they launch their careers."
The art prizes enable the museum to continue the long tradition of purchasing graduate student work for the university's Fine Arts Collection and building an endowment to eventually acquire a work from every graduating M.F.A. student.
(Kelly O'Leary received the LeShelle & Gary May Art Purchase Prize Winner; Morgan Cristine Flores won the Keister & Allen Art Purchase Prize; and Trace Manuel was winner of the Savageau Award.) 
Performances at opening; art history the next day
The public opening includes a poetry reading by Amanda Hawkins (creative writing); a music and dance collaboration between Trey Makler (music composition) and a choreographer-dancer inspired by tarot, theories of utopia and Manuel Neri's figurative sculptures; and a demonstration by doctoral students Orkun Akyol (music) and Kyle Johnson (math) of a sound synthesis tool they developed using chaos theory models. The prize winners will be announced at the opening.
Art history students will present their work at a colloquium June 3 from 3 to 6 p.m. at the museum.
Students from eight areas are taking part
ART STUDIO: Phillip Byrne, Morgan Cristine Flores, Emily Gordon, Melanie Hernandez, Kelley O'Leary, Sofia del Pedregal, Helia Pouyanfar and Whitney Vangrin 
DESIGN: Valentyna Hrushkevych, Trace Manuel, Fatema Mostafa, Edward Whelan and Iris Xie
CREATIVE WRITING: Amanda Hawkins
MATH: Kyle Johnson (with Orkun Akyol, music)
MUSIC: Orkun Akyol (with Kyle Johnson, math), Trey Makler and Joseph Vasinda
PERFORMANCE STUDIES: Diego Martínez-Campos, Avital Meshi and Anuj Vaidya
ART HISTORY: Samantha Cruz, Bella Payne, Anya Shulman, Emily Szasz and Dada Wang
POLITICAL SCIENCE: Laurel Yacuta
— Jeffrey Day, content strategist in the UC Davis College of Letters and Science
Tags